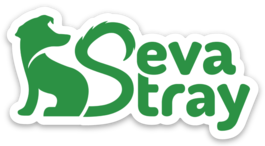 Description
1 sticker purchase = 1 rabies vaccination for a street dog in India. 100% of the proceeds from this sticker will be donated. 
This is one of our most popular items, not only is this sticker thick, durable, waterproof, scratch and sunlight resistant, it saves lives. Can you say that with any other sticker? 
Add it to your phone case, water bottle, car, coffee cup, laptop and more to show how you helped change a dog's life in India! 

Tag us on social and share the love! #SevaStray

Help Stray Dogs
Purchases of this sticker (and all of our products) will help treat, vaccinate and spay/neuter stray dogs in India.  We work with truly amazing organizations on initiatives to improve animal welfare and make local communities safe. This includes things like:
Spay and neuter programs to reduce the number of stray animals in India.
Helping injured and sick animals.
Vaccinating against rabies and other life-threatening diseases.
Awareness programs to promote co-existence.
Thank you for helping us help dogs!