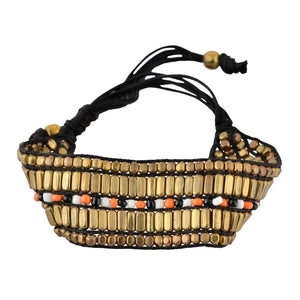 Gold Metallic Beaded Cinch Women Bracelet 
Metallic cinch fashion bracelet with golden beads and black base.  Handmade in India.  Bohemian look, trendy for daytime wear or evening elegance.  Multi-color beading may differ slightly from picture shown.  
Help Stray Dogs
Purchases of this bracelet (and all of our products) will help treat, vaccinate and spay/neuter stray dogs in India.  We work with truly amazing organizations on initiatives to improve animal welfare and make local communities safe. This includes things like:
Spay and neuter programs to reduce the number of stray animals in India.
Helping injured and sick animals.
Vaccinating against rabies and other life-threatening diseases.
Awareness programs to promote co-existence.
Thank you for helping us help dogs!
Customer Reviews
04/13/2022
Lindsay L.

United States
Fits well and so cute
Fits well, easy to open and close, and just as cute in person as the photo! I love this bracelet.